Recently, we made three perfect sensory bins for the month of October -- and for all three I spent only $5 (total, not each). They have each been a hit and offered unique play and learning opportunities for Wild Thing, who is almost 3, and Caterpillar, who is 15 months.
We created a Fire Sensory bin for Fire Prevention Week earlier this month and shared the bin, fire truck/safety books and a cardboard box fire truck craft.
For Halloween, I made a bin that I call our boo bin, dominated by orange and black and pumpkins because for Wild Thing, Halloween means pumpkins and not much else. He loves all of the pumpkins, the black and orange, and the letters as he is into early spelling/reading right now. The pipe cleaner spider is a fun addition too. I have to be careful with black beans with Caterpillar, but he much prefers playing with paper shreds most of the time - throwing them up in the air amuses him to no end.
Halloween Sensory Bin in Action
For the black beans in the bin, we re-purposed the black beans from our Bee Sensory Bin that we made this Spring. The boys really enjoyed helping me sort out the black beans and sift out the cornmeal from the bin. (Tip: If you see a flour sifter at a yard sale or thrift store, buy it! We love it as a sand toy and for all sorts of other fun play activities).
The most fun, from a making it perspective, was our Autumn Nature Sensory Bin because Wild Thing helped collect all of the items to put in our bin, even spotting some pine cones when we were waiting at a bus stop the other day (Wild Thing wanted to take the bus for a mini adventure and it was so much fun by the way!!). I found myself climbing over a small wall while wearing Caterpillar to get the pine cones Wild Thing had spotted. :)
We also sometimes add some non-natural Fall elements to the bin to mix it up, including the milk cap pumpkins that we have been having SO MUCH FUN WITH IT.
With the Fall bin, we really have enjoyed exploring the bin through the five senses. We explore the colors of Fall (sight) through the different leaves, the smells of Fall through the pine cones, the feel of Fall (touch) through the textures of the pine cones and comparing the different leaves (freshly fallen are smooth, long-time fallen are stiff), the sound of Fall (hearing) through crunching leaves, and the taste of Fall (taste) through the Spaghetti Squash and seeds play we did in preparation for the bin.
Here is the breakdown of the items I bought to make these three bins:
Orange paper shreds (for Fire and Boo bin) - $1 at Target
Mini Fire Trucks - $1 at Target (Transportation Domino set in the bargain section - alternatively you could cut out pictures of fire trucks or download and print pictures of fire trucks)
Pipe Cleaners (for Fire and Boo bin) - $1 at Target or Dollar Tree (you get so many for $1 and I use them for so much, such as this fun baby play activity with pipe cleaners and a milk jug)
Dried black beans (for Boo bin) - leftover from my bee bin, but probably only 50 cents if I calculated it because most of the beans from the bag I bought for $1 were actually used for meals.
Autumn Nature Bin - Almost all items were free from mother nature: leaves, seeds (from a Spaghetti Squash I made for dinner and that offered lots of fun play and experiments that are coming soon to the blog), pine cones, nuts and a mini pumpkin. The mini pumpkin was the only thing I bought for 59 cents at the grocery store. We only have one that switches between the Autumn and Boo bin.
Pumpkin and Leaf Stickers (Boo and Fall Add-Ons) - came together in a set for $1 at Target.
Other Items - Other little things that were in the fire bin were fabric scraps, letters cut out from poster board, red blocks and his toy fire truck. These were all little things we just had at home that I thought were relevant and would fit well in the bin.
I also wanted to share some of my other favorite Fall/Autumn or Halloween bins from around the blogosphere.
You can have spooky fun with this Halloween Sensory Bin from Here Come the Girls.
The Nurture Store has the cutest Autumn Sensory Tub featuring squirrels!!
I love this Hedgehog Hibernation Exploration Basket from The Imagination Tree that cleverly uses spiky, round seed balls to make the hedgehogs. SO cute! You must check it out.
For little ones under 2, I recommend The Autumn Toddler Sensory Bin from Frogs and Snails and Puppy Dog Tails, Small Fall Sensory Bin for Baby from Plain Vanilla Mom and the I-Spy Pumpkin Sensory Bag featured at The Golden Gleam.
I shared this post at Saturday Show and Tell hosted by Cheerios and Lattes, The Golden Gleam through her Outdoor Play Party, Crafty Moms Share: Sharing Saturday, Living Life Internationally TGIF Linky Party, the Sunday Showcase, Outdoor Families Fall Activity Link-Up and at the Weekly Kids Co-Op with 150 activities linked up. Also shared at: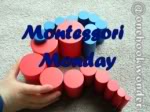 Featured at Crafty Moms Share: Sharing Saturday and on the Fall Activities Round Up from Sow Sprout.
You can also keep up with Wild Thing, Caterpillar and I on Facebook at The Good Long Road and see all of the sensory bins and other play ideas I am pinning by following me on Pinterest!
You might also like: