Today, I share these photos to celebrate my grandmother's approach to her battle with breast cancer. This post signifies important growth for me regarding my relationship with her. Above, she is with Wild Thing when he was just a few months old and with my brother. Two months later she would pass away, but not from breast cancer. She would be cancer free for almost 20 years--dying from unrelated health problems. She outlived this disease that effects way too many of us. She shared her story with me of losing a breast as I helped bathe her one night when she was too old and frail (because of severe osteoporosis) to bathe herself -- even decades later, I could tell how traumatic the loss was. My genetics mandate that my mother and I get checked, but self-checks, mammograms and education about diet and life choices that increase the risk of getting breast cancer are important for all women, since currently 1 out of 8 women will be diagnosed with breast cancer.
This post also reminds me that this what real life looks like sometimes: a frail older woman being comforted by a baby in her lap and by the hand of her grandson, a granddaughter writing late into the night as she learns to let go of pain and honor another, a community of people who have never met in real life connected through machines to spread awareness and help kids begin to understand what cancer is,
Small Hands Creating Hope.
We're hosting a Go Pink Blog Hop. This blog hop includes great posts with ideas for how to help kids understand and get involved, including a great book list from
The Educators Spin On It
. We invite you to share your Pink Themed posts about how you are reaching out into your community or even into your own homes and playgroups to spread the word.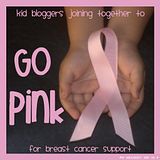 10 Things You Should Know About Breast Cancer
One out of eight women will be diagnosed with breast cancer… that's one every three minutes.

One woman will die of breast cancer every 13 minutes… nearly 40,000 women each year.

Monthly breast self examinations and annual clinical exams and mammograms in women 50 years and older could prevent as many as 30 percent of those deaths.

The American Cancer Society recommends women begin annual screening mammograms at age 40. Women should begin breast self examinations as early as in their 20s.

Breast cancer death rates have been steadily decreasing due to increased awareness of the importance of early detection and because of improved treatments. Today, there are more than 2.5 million breast cancer survivors in the U.S.

Between 5 to 10 percent of breast cancers are linked to inherited genes. Women who have inherited these genes are 80 percent more likely to develop breast cancer. If your family history includes close relatives on either your mother's or father's sides who have had breast cancer at an early age, you may wish to seek genetic counseling to learn if you are at higher risk for breast cancer.

If your mother, sister or daughter have had breast cancer, your risk for it more than doubles. Genetic counseling and aggressive surveillance/treatment may be recommended by your doctor.

More than 85 percent of women diagnosed do not have a family history of breast cancer… that's why breast self examinations and annual exams and mammograms by your doctor are so important to early detection, treatment and survival.

You can reduce your risk of breast cancer with simple lifestyle choices… maintain a healthy weight… exercise regularly, even if it's just a brisk walk 20 minutes each day… eat healthy foods…. and drink alcohol in moderation.

Tobacco use is clearly linked with many kinds of cancers and other diseases, such as cardiovascular disease. If you smoke, consider quitting.