With our Christmas Sensory Bin, Wild Thing explored how Christmas sounds, feels, tastes, smells and looks, and we made it for basically $4 using items we already had as well as few things from the dollar store.
I rarely introduce food into play in non-edible ways, for various reasons, but did select to use colored pasta in this bin to represent pine needles.
With our Fall Sensory Bins (when I made 3 for $5), I discovered how fun it was to include Wild Thing in the process of making the bin, so I had him help this time, too, particularly with making the colored pasta.
Our 50 cent bag of pasta, food coloring and some peppermint soap I happened to have.
Wild Thing put several drops of food coloring and soap in this container and shook it.
Then he spread the pasta out on parchment paper on a cookie sheet.
He did not get every piece of pasta turned green, but he did have lots of fun and actually liked seeing the different shades - yellow, light green and a darker green of the pasta. Using soap is not common when dying pasta, but I wanted our bin to have the peppermint smell, so I decided to add it as the binder rather than vinegar or hand sanitizer or some of the other items typically used. Love Play and Learn and Nurture Store both have useful details on coloring pasta and ended up with better results than we did.
To explore all five senses our bin included:
Scented Cinnamon Candles to represent the smell and lights (look) of Christmas (I got a packet of four of these candles for $1 at the dollar store).
Peppermint-Scented Pasta to represent pine needles for the look and smell of Christmas (The bag of cut angel hair pasta was 50 cents at the dollar store. The soap I happened to have I could not resist it when it was on clearance at my local grocery store for $2. It has so many uses.)
Cotton Balls and super-mini marshmallows to represent snow - the soft feel of Christmas with the cotton balls and the mini marshmallows were great for a tweezer transferring exercise for fine motor skills (and in decorating the cookie cutter tree that I switched with my initial foam tree because I realized it could be filled for decorating).
Christmas Tree Cookie Cutter to representing the look of Christmas as well
Jingle Bells (I got a packet of 12 at the dollar store) to represent the sound of Christmas
Candy Canes to represent the taste of Christmas, along with a gingerbread cookie I added in at the last minute (I got 30 little candy canes at the dollar store for $1)
A small Christmas mitten we happened to have also for the soft feel of Christmas
Rosemary Sprigs another item added to represent the look and smell of Christmas,

since they look a bit like pine trees.

A Painted Pine Cone leftover from a previous painting activity to also represent the unique look, smell and feel of Christmas as pine cones have a look, feel and smell all their own and have been major decorations in our house this Christmas.
Wild Thing had lots of fun exploring this bin - moving around the pine needles, having me light the candles for him to blow out over and over, tasting the candy canes (he had never had one before), decorating the tree, seeing how many snowballs (Cotton Balls) would fit in the mitten (9 is the answer by the way), shaking the jingle bells and singing songs, having a snowball fight with the Cotton Balls (which does not hurt at all), and ultimately making a mountain.
The snowball fight and mountain were inspired by two books we have been reading lately that Wild Thing absolutely loves: Snowmen at Night and Trouble with Trolls. In Snowmen at Night, the snowmen have a big snowball fight. Trouble with Trolls we discovered through the Virtual Book Club for Kids with Jan Brett being the author for December. In this fun book, the lead character travels up a mountain, so Wild Thing wanted to create the mountain that all of the adventure happens on -- we will be sharing more activities inspired by this great book on the blog later today!
Sharing at: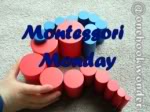 You might also like: